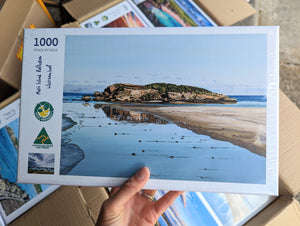 Jigsaw - Merri Island Reflection 1000 piece
Tax included.
Shipping
is free if you pick up from me OR $15 flat rate to anywhere in Australia. $30 flat rate international.
---
---
One of my top three most popular prints - this one will probably be a bit more of a challenge than the others. Therefore even more enjoyable!
Fine art prints are available of Merri Island Reflection.
- 1000 pieces
- huge variety of shapes making it easier than if all pieces are uniform
- 715mm x 530mm
- Loads of fun!